China-Restaurant Orchidee – Minden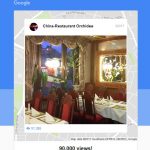 Address: Stiftsallee 100, 32425 Minden
Hours: 12–3PM, 5:30–10PM
NEW Phone number: 0571 78962964
Menu <-Click
This is a little crazy. One day I was waiting for takeout from our local Chinese Restaurant, Orchidee, in Minden. I just took a quick photo with my cell phone and google asked, "Do you want to add this photo…" to something? I can't really remember what it was. But, then I got an email today saying that this photo has been viewed over 91,000 times. Is that crazy? I hope this link works, if you want to check it out… Here.
Nordrhein-Westfalen
Anyway. Orchidee in Minden is a place to get some really nice Chinese food. They have a great buffet for very reasonable prices. Both lunch and dinner with a great selection of desserts, drinks and, of course, Tsingtao. The great Chinse beer that goes so nicely with well prepared Chinese fare!
Here is one review from ConilD at YELP (in German): "Ich kann nicht nachvollziehen, wie man bei so einem reichhaltigen Buffett nur zwei Sterne vergeben kann.
Ich habe vom Buffett zumindest kaum Frittiertes gegessen und wurde doch angenehm satt. Verschiedenes Gemüse, und nicht nur Zwiebeln, Bambussprossen aus der Dosen und Möhren, wie ich anderorts auch schon oft erlebt habe. Daneben gab es Rind, Huhn und auch aureichend knusprige Ente vorhanden, entweder pur oder in Sauce. Nudeln, Reis, Reis gemischt mit Gemüse, Saucen ohne EinlagenIn Minden scheint es da zu viel Konkurrenz zu geben, deshalb wohl die geringen Bewertungen obwohl der Jadegarten ja wohl deutlich (!) schlechter ist.
Service zügig, der deutschen Sprache mächtig, alles sauber bestens!
Also: Vom Bodensee kommend kann ich das nur richtig gut finden für schnelles, preisgünstiges, schmackhaftes Essen. (Mittlerweile kostet das Buffett 10,90 EUR, ein 0,25 Rotwein (hier Beaujolais genannt) 3,40 EUR und eine Appfelschorle 3,20 EUR.)
Wenn ich wieder in Mindne bin, gehe ich wieder da hin!"
In short. Check out Orchidee China-Restaurant when you want good Chinese food in Minden, Deutschland.