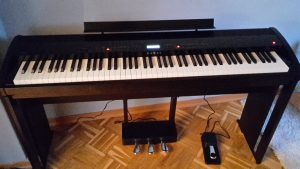 I have recently purchased a Kawai ES8
keyboard with HM-4 design kit and the additional F-301 sustain, sustenuto, damper, soft-damper pedals.
The keyboard normally comes with just the F10H Sustain Pedal with Half-Damper function included for free.  But I opted for the Design Kit so it would look good in my home.  So, I ended up with four pedals – all told.
The thing sounds great.  Exactly like a grand piano.  It has its own speakers and they are powerful. With only the included speakers you are able to play at very loud volumes.  Even the ACC, or accompaniment / backing tracks, sound awesome! The Kawai ES8 features 100 Rhythms with Variation (Drums, Bass, Backing), Auto Fill-In, One Finger Ad-Lib Phrasen, Auto Chord Progression, Full Keyboard and One-Finger-Mode.
In fact, the accompaniment feature played a lot into the decision to buy this unit.  The instrumentation and ease of usage of the tracks while playing is very interesting.  I would like to use it in my gigs on a few tunes.  It sounds great, and, I think the audience would like it, too!
I then encountered a problem that I didn't even consider could possibly ever be a problem.  The only way I could find to start the ACC (accompaniment) was with your finger.  On the upper right side of the control panel.  So, if I want to start the Backing tracks on beat, "One", I have to do it with my right hand.  So, in other words, I could only start the machine on beat 1 and sometime later into the measure, I can actually play the first chord.  Hmmm..



My last keyboard was a Roland FP-7 (now the FP-80 & 90) which has many of the features of the Kawai ES8.  Accompaniment with great sounding backing tracks that intuitively follow you around, really well.  It was pretty easy to set-up the start/stop function to work with a separate foot pedal.  Just an option within the "foot pedal" section that allowed me to set it to an 'on/off' function.   The FP7 also had a feature that started the accompaniment when you start playing.  That was great!
So, I dove into the settings on the ES8 looking for "foot pedal" options.  I figure, I have four pedals.  How hard can it be to assign one of the to the "start/stop" function for the ACC.  Well..  it turns out, with only these four pedals, it cannot be done.  Damn.
This machine is really great and you can do a lot of things with the damper/sustain/sustenuto/soft pedals, setting a 'half-damper' and changing the order of them but in no way get you get one of them to turn the ACC on or off.
I have spent hours searching the internet for a solution to this problem but nothing seemed possible.  In fact, you may have found this page because you are looking for the same info.
So – the solution?  And, it turns out, there is one!
You need to buy the 'Optional' Kawai Double Pedal F-20.  Yup.  Totally optional.  Unless you want to start and stop the damn thing without using your right hand while playing.  A little frustrating since I all ready have four pedals.  :(
I have learned this through sending an email from the Kawai (American) website and clicked the "Ask a Question" link.  They were very helpful and offered to provide a new beta  software version that would get the F20 working as an ACC start and stop function.
Many thanks to Alan at Kawai US for his help!!
My Email:  "Hi.  I just got my new es8 with the home stand and three pedal package.  It sounds great.  I would like to set the extra, single pedal to be the on/off for the ACC.  Can you please tell me how to do this?  Thank you."
About an hour after inquiring, I received an answer…
Hello,
The F10H single pedal is not assignable however the optional F20 Dual pedal can be assigned to several different ACC functions including Start/Stop.
Regards,
Kawai
So, I write back…
Thank you for your quick response.  I have ordered the F20 pedal just now.  However, when rereading the manual about this, I do not see on/off as an option.  (As per the attachment. )   Is there another set of options to use the third as a start/stop? 

Thanks again.
And this is explained to me…
Hello,
Sorry, I should have mentioned many ACC related F20 pedal functions have been added in recent software updates. In fact the latest revision is not officially available yet but I can send you a beta version along with the manual addendum though I think once you look at the F20 settings screen in the menu the new functions will be self explanatory. I will send you the software and addendum if you like.
Regards,
Kawai
I replied that I would, indeed, like to have the software and addendum to the manual.  And, I am still waiting for delivery of the optional F20 pedal.  It seems that maybe the machine will automatically recognize the pedal and its options will appear.
I will update this space when I have it working!
Leave me a message below or through the contact page and I will answer any of your questions about the Kawai ES8 start and stop, on and off foot pedal function.